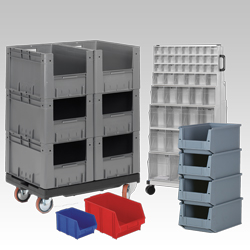 Plastic warehouse bins, also called stackable bins, are ideal for storage of your small items and service parts. They are usually used on warehouse racks or in service vehicles. Warehouse bins with half-open fronts are sometimes stacked, creating extra space. Those with dividers or partitions are used purely to keep things organised.
Warehouse bins, stackable or nestable
Our selection of storage bins:
warehouse bins with subdivisions in the length and in the depth, nestable (without dividers), various lengths, all the same width
warehouse bins with subdivisions in the depth, various lengths and widths, non-nestable
stackable bins with slanted, half-open front
heavy-duty stackable bins with straight, half-open front and, optionally, a clear lid
Tilting bins, too
This last variation is a chapter in itself. Tilting bins are clear, so the contents can be quickly identified. With accessories such as cabinets, trolleys and wall rails, the tilting bins can easily be stacked 2 metres high. The sizes vary from 1 to 20 litres. Tilting bin holders are available individually or in strips of 2 to 9 bins. They are often used in chemist's shops and DIY shops.