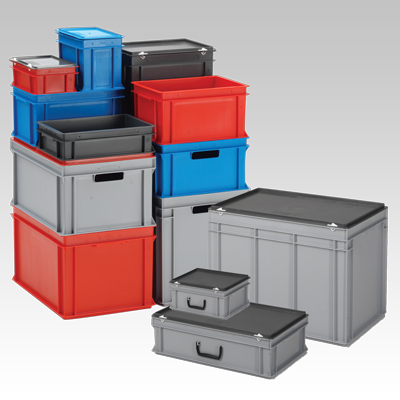 De kunststof bakken en kunststof kratten van Engels kenmerken zich door hoog draagvermogen en stapelbare belasting. De kunststof bakken zijn in diverse toepassingen te gebruiken en geschikt voor transport, opslag en pool systemen. De industriële kwaliteit gaat een leven lang mee. Uw product is goed beschermd in onze bak, dankzij de sterke deksels en vacuümvorm- of schuiminterieurs naar keuze. Geen uitval meer, geen verlies van grondstof of onnodige kilometers. Plastic roest en rot niet en laat zich niet indeuken en is dus een ideaal materiaal voor veeleisende logistieke toepassingen!
Voor distributie leveren we ruimtebesparende bakken
Een stapelbare bak is vaak de beste oplossing: simpel stapelbaar met minimale moeite. Geschikt voor duikuitrusting, persluchtflessen, groente en fruit, machineonderdelen, brood, een eindeloze lijst. Zolang het gaat om opslag of heen en terug vervoer met eigen wagens gebeurt. Als voor retourvolume vracht betaald wordt, kiezen we meestal niet voor stapelbare bakken, zeker als de transport afstand groot is. Hier raden we onderstaande ruimtebesparende bakken aan.
Draaistapelbakken: op elkaar zetten door 180 graden te draaien, in elkaar schuiven door terug te draaien.
Beugelbakken: op elkaar zetten door beugels naar binnen te klappen, in elkaar nesten door de beugels naar buiten te scharnieren.
Distributiebakken: op elkaar zetten op gedeelde scharnierende deksels, die in gesloten toestand in elkaar haken (krokodillenbek vorm).
Opvouwbare kunststof bakken: als ook één lege kunststof bak maar een minimale ruimte innemen mag.
Twee varianten:

wanden opvouwbaar met starre bovenrand, oftewel vouwbakken
alle wanden vouwen naar binnen toe, minder sterk, grootste ruimtewinst, oftewel klapboxen