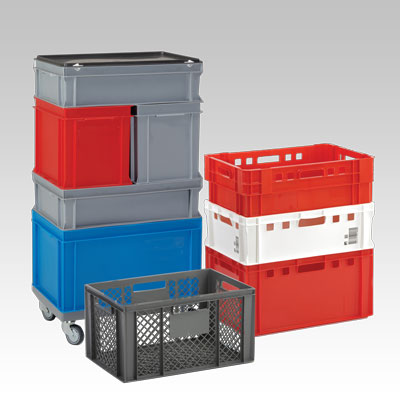 A stackable bin is often the best solution: easily stackable with little effort. Suitable for diving equipment, compressed air tanks, fruit and vegetables, machine parts, bread... the list is endless! For all situations in which containers are delivered and returned with one's own vehicle(s).
Industrial stackable bins
Our stackable bins form a complete range of transport bins. The plastic bins are stackable and follow the Euronorm standard. We distinguishes three types of Euronorm stackable bins: the RAKO, the Logilight and the affordable E-Line plastic box.
RAKO; strong plastic Euronorm bin, for multi-purpose and multifunctional use

Logilight; light plastic Euronorm bin, suitable for standard industrial use

E-Line; sharply priced plastic Euronorm bin, suitable for normal use
Agricultural crates / Agri crates
Stackable agricultural crates with perforated bottom and slotted side walls are specially designed for the export of flower bulbs (lilies and tulips) and other agricultural products.
Euronorm meat crates
Meat crates are standardized crates for the meat processing industry, also called "E" crates. Standard meat crates comply with the latest EHI and DIN 55 423 standards and have a smooth bottom making them well-suited on rollers.
Hygienic bins
The Hygienic bins are stackable bins with an absolute minimum of ribs for perfect cleaning. The isolationbins can be provided with a cooling element or standalone packaging with temporary temperature protection.
Eurotec bins
Eurotec bins are designed for internal use and are usually supplied by project. Eurotec bins are perfect for use in an assembly line. All Eurotec bins are available in several bottoms, because the shape and taxability determine it's employability.
Bins for automobile industry
The bins have all technical features that are required for use in the automobile industry. The bins have special bottoms and sidewalls and can all be stacked on each other.
Specials
The Euronorm sizes aren't always the solution to all problems. For several clients, like Bosch and Airbus, we've made deviating sizes fitting their unique requirments. Oftenly these can be supplied with lids and other accessories such as inset bins.