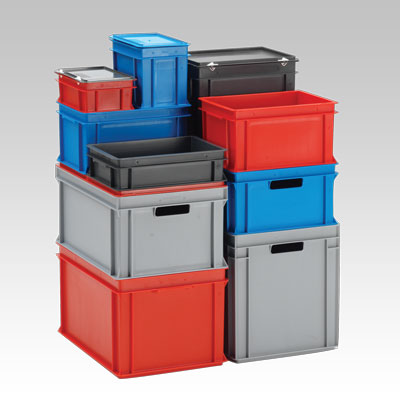 Rako is the most complete transport container system in Europe. All models can be stacked on each other and can hold several hunderd kilo's. Numerous bottoms/handles,sidewall's models can be combined to make the perfect container for every situation. Several sizes are available in red,blue and darkgrey aswell.
RAKO: strong and stackable
The RAKO range also includes all kinds of extras for the plastic containers. Such as protective interiors and handles to convert the containers to hand carry-cases. Furthermore, Engels can supply dividers, indelible labels and transport rollers for the standard product if required.
Even though the RAKO range is very broad, it obviously may not offer exactly what you are looking for. If that is the case, Engels will be pleased to produce a custom product for you. We have built up years of experience in the production of plastic products. We will be delighted to use that experience in order to satisfy your specific requirements.