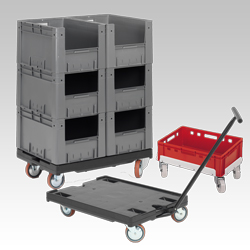 For every kind of bin we can supply a suitable trolley. Engels has a comprehensive program of standard transport rollers for your Euronorm storage and transport containers of 400x300mm, 600x400mm and 800x600mm. That way, a stack of Euronorm bins can be moved in one motion.
When choosing a suitable transport roller, we recommend to take the following requirements into account:
dimensions
load capacity
type of surface
material
The above factors determine the right combination of wheels and frame. Also the application for which you will use the transport rollers plays a role. Transport rollers in the rear of the trunk will have to meet different conditions than transport rollers used in freezer cells. For the best composition (application / price) you can always contact our sales department.
Engels also makes custom transport rollers of sheet material. Depending on the application, we make them out of plastic or steel.