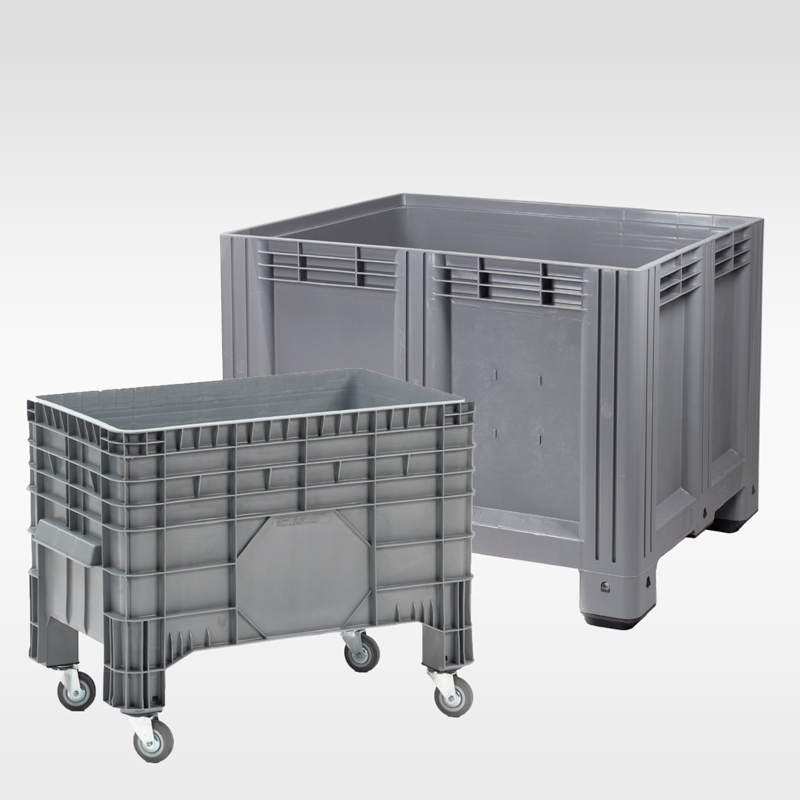 Popular for their large volume and strong construction. You can find our pallet boxes in assemblies for the automotive for heavy materials as well as for vegetables and fruit growers to transport large amounts of loose products. The possibilities are extensive and proven by our years of experience in different industries.
Pallet boxes: volume and load capacity
Depending on their size, Engels plastic pallet boxes (also called box pallets) can withstand loads of up to 5 tonnes in a stack. Stacking higher requires less floor space. Furthermore, you can choose from 3 bottom types, all of which we normally have in stock:
4 feet: for the agricultural industry (where the content may extend beyond the top of the box)
2 runners: better stacking, also suitable for roller conveyors
3 runners: industrial use, withstand heavy loads for applications such as battery recycling or used paper recycling at printing companies.
Your choice of box pallets for improved logistics:
In principle, we always choose high-quality plastic, either virgin HDPE in the colour of your choice from just 250 pieces (we usually have red, blue, grey or –in perforated version– green in stock) or dark grey recycled HDPE made of reclaimed pallet boxes (usually our own). Depending on the dimensions, our box pallets can support bottom loads of 800 kg in the rack. We offer four different types of side walls:
Flat inner surface, for industrial use, foldable or single-piece.
Or tapered slightly outwards, for maximum capacity when the boxes are filled with fruit, vegetables or waste. These are also available in foldable and single-piece versions.
Our custom-manufactured options:
Engels is a manufacturer of custom made pallet boxes. The pallet box can be extended, raised or lowered depending on your needs. Many options are available: pallet boxes with doors, ramps or hinges, pallet boxes with wheels, drains, locks, hinged lid, compartmentalized pallet boxes or with dividers, ADR/UN approved pallet boxes, etc. We can weld pallet boxes together in the length or height, using an industrial butt fusion machine. This allows us to provide large pallet boxes in a variety of sizes that are just as strong as if they were produced from a single piece.