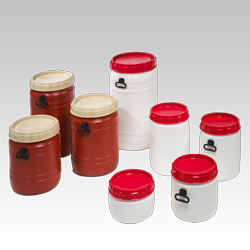 Plastic drums with screw lid closure have a large opening and are easy to open and close. The drums are water tight, tamper evidently sealable and UN certified for hazardous solids.
Engels supplies various types of screw-lid drums:
Large-opening drums; from 3.6 to 68 litres
Total opening drums; from 17 to 110 litres
Nestable drums lower cost for storing and shipping empty packaging. Their content ranges from 30 to 115 litres.