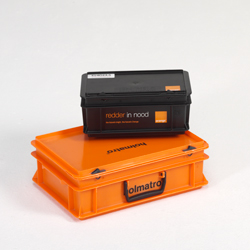 In order to supply bins with clear marking we can fit them with an indelible imprint, labelholders and all kinds of custom made labels.
Hotstamp
We have two different techniques available to apply stamps to a bin. By means of a hot stamp or silkscreen printing. When using a hot stamp the printing machine heats up the plastic and presses a brass stamp into it. Engels has several standardized letters to make any text requested, or making a cliche with a company logo for example. Another possibility is the use of silkscreen printing to apply text and logo's. Printing can be done on virtally any surface. There are several base colors to choose from.
Labelholders
A labelholder allows for a neat way to show the contents or a transport adres on a bin. Engels supplies several selfadhesive transparent labelholders in standardized dimensions. We also have metal spring labelholders and labelholders for shuttling.
Stickers
Basically any marking can be made, in any complex colorcombination to cut letters. Engels already has a line of stickers with icons for waste fractions for example.