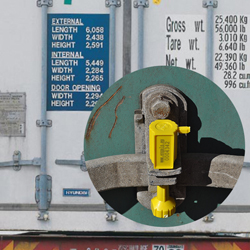 Engels levert ook een reeks van verzegelingen speciaal voor het afsluiten van containers. Voor containers worden zowel sluit- als slotzegels geleverd. Sluitzegels zijn éénmalig open te trekken waardoor direct zichtbaar is als een container geopend is. Slotzegels vormen ook nog een extra barriere om bij de inhoud van de container te komen. Alle zegels kunnen voorzien worden van uw firmalogo en/of doorlopende nummers c.q. barcodes voor extra controle en zekerheid.
We onderscheiden drie veiligheidstypes:
Light duty verzegeling; bedoeld als zegels, niet als barrière. Niet te vervalsen, wel éénmalig open te trekken. Hybridlock™: Sluitzegels: niet strak, de punt ervan wordt in de kop geklikt. De straps zijn bedrukbaar, de Hybridlock™ heeft ook een bedrukbaar label.
Medium duty verzegeling; als openen alleen met een draadkniptang of betonschaar mag, kiest u voor Alulock™. Inzetbaar tussen de -40º en +120º Celcius. Bij Alulock™ staat de wikkeling van de kabel onder spanning, na knippen staan de draden alle kanten op en is hersluiten onmogelijk.
Heavy duty verzegeling; de veiligste slotzegels uit onze range. Gecertificeerd door de douane van het Verenigd Koninkrijk, neutraal of bedrukt leverbaar. Nummers op huis en slotpin komen overeen, als extra garantie. Huis en slotpin zijn bedekt met kunststof (SAN), waardoor pogingen er mee te knoeien zichtbaar blijven.