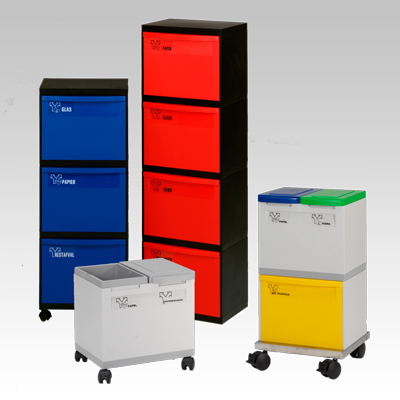 Ecomodules zijn stapelbare en koppelbare afvalbakken. Er passen emmers en/of afvalzakken in. Iedere denkbare combinatie is samen te stellen, variërend van wit en bont papier op kantoor, vertrouwelijk papier in een behandelkamer tot glas in een keuken. De ecomodules zijn bekend om hun duurzaam gebruik: de modules zijn gemaakt van ABS, een kunststof van hoge en nauwelijks breekbare kwaliteit, de emmers zijn van PPcop, een veel soepeler materiaal en zijn eenvoudig schoon te maken.
Ecomodules stel je samen om in iedere omgeving te scheiden wat zinnig is. Dit levert meer motivatie en minder irritatie. Niet alleen voor op kantoor is dit een geschikte oplossing. De module is tevens inzetbaar in de werkplaats, kantine, keuken en bijkeuken. De kleuren van de deksels en kantelbakken corresponderen met die van afvalcontainers.
Onze afvalmodules zijn samengesteld uit verschillende bouwstenen. De twee basiselementen zijn de ombak met 18 liter inhoud en een ombak met 40 liter. Beide eenheden zijn stapelbaar, en indien gewenst, koppelbaar, in zowel de breedte als in de hoogte.
Voor onder het bureau volstaat een duo uitvoering, met links een emmer met hengsel voor papier, snel en makkelijk leeg te gooien en rechts een restafvalzak onder het deksel, groot genoeg om hooguit eens per 14 dagen vervangen te worden. Voor (bij)keukens pak je de trio uitvoering, je klikt eenvoudig een module met kantelbak onder een duo uitvoering.
Stel uw specifieke combinatie samen en maak deze geheel naar wens. Kies bijvoorbeeld voor RVS-look stickers voor fractie- aanduiding of accentuering van uw module. voor maximale duidelijkheid samen met de stickers. We kunnen de ecomodules ook aanpassen aan de huisstijl van uw organisatie door een opdruk of door het gebruik van kleurcombinaties.
De Ecomodules kunnen ook als opbergsysteem gebruikt worden. Stapel en koppel de verschillende 40 liter ecomodules met kantelemmer tot één grote wand en u heeft een efficiënt en kleurrijke opbergkast.