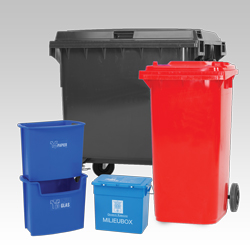 Afvalscheiding aan de bron geeft tot nu toe het zuiverste resultaat. Naast ons complete programma vuilnisbakken MGB60, 80, 120, 240, 360, 660, 770, 1000, 1100 en 1700 liter leveren we daarom ook slimme korven en bakken voor papier, glas, biofractie en KCA. Al onze kunststof 2 en 4 wiel afvalcontainers kunnen we voorzien van dekselopeners, trekstangen, papiersleuven, glasrozetten, driekantsloten, zwaartekracht en automatic sloten, apart of in combinaties. Alleen de heftruckopname is enkel op 4 wiel afvalcontainers toepasbaar.
Ook stalen afvalcontainers uit voorraad!
Kunststof stopt bij1700 liter, naast de standaard MGB maten 660, 1000, 1100 ltr leveren we in staal 1300, 2500, 3500 en 5000 liter containers, met DIN- of Geesink opname of in frontloader uitvoering, met stalen, aluminium of kunststof deksels.